People are at the very heart of Prana Yoga Retreats. We are a family run business and along with our core team below you will often find other family members who are eager to make your retreat experience a special one. If you are lucky our friendly little dog Rupee will also be in residence!
Claire Dunniece – Co-Founder & Lead Yoga Teacher
Claire developed an interest in yoga as a teen, initially teaching herself with the aid of a small book. It wasn't until her early twenties that yoga would become her lifestyle. After school Claire completed an Honours Bachelors degree in Commerce and later became a Certified Chartered Accountant. While working in accountancy practice she sought out yoga once again to help reduce the stress she was experiencing as a manager in a busy firm. Suffering from chronic pain and anxiety, she had begun to experience the negative effects that modern lifestyle and pressure can have on the body and mind. She quickly discovered that regular practice of yoga could help her to feel better physically and regain essential life balance.
Claire is a regular student of Yogacharya Lalit Kumar whose lineage includes Swami Veda, B.K.S Iyengar and Sri Krishnamacharya. She has spent time studying Ashtanga and Hatha in India and completed her 200hr Teacher Training with Lalit at the Himalaya Yoga Valley Centre Goa. She has also practiced with internationally renowned teachers Kathryn Budig and Tara Stiles. She runs regular classes in Ballincollig, County Cork and also provides private sessions and corporate wellbeing. If you are interested Claire's classes you can visit her website here.
Claire is a firm believer that yoga should be made accessible for every individual regardless of age, size, strength or perceived flexibility. She also feels that our society has become disconnected with our bodies and in a world which is increasingly reliant on technology and medication it is particularly important to make yoga available as a tool for life. She is passionate that the practice of yoga can help us return to our natural state where we feel more balanced, our bodies function better and we live with ease.
Claire Dunniece is a registered teacher with Yoga Alliance Professionals. This accreditation demonstrates excellent standards as set by Yoga Alliance Professionals.
Piotr Walkowski – Co-founder, Retreat Chef & Activity Co-ordinator
Piotr has a passion for yoga and travel. He holds a degree in Food Technology and has over a decade of experience in the Hospitality industry having held senior managerial positions in prestigious hotels and  restaurants. He is an expert at customer service and greatly enjoys hosting guests and being able to provide an unforgettable retreat for them. He believes everyone should take the time to step back from their day to day lives and experience a yoga retreat which can reignite their vitality for life.
He began his yoga journey in 2010 dabbling in both Ashtanga and Hatha styles. He enjoys the dynamic flow and movement with the breath that yoga offers.  Piotr has spent time at the Sivananda Ashram in  Kerala, India deepening his practice and his knowledge of yoga lifestyle and Ayurveda.
Piotr has spent much time traveling around Europe, India and Indonesia and loves to share his joy for food and fine wine which he applies when designing menus for our retreats. He regularly teaches us that vegetarian food can be delicious and easy to make through his cooking workshops. 
As co- founder of Prana Yoga Retreats he has found the perfect way to blend all of his skills, knowledge and passion to provide the ultimate retreat experience for all guests.
Aine Dunniece – Retreat Assistant & Social Media Guru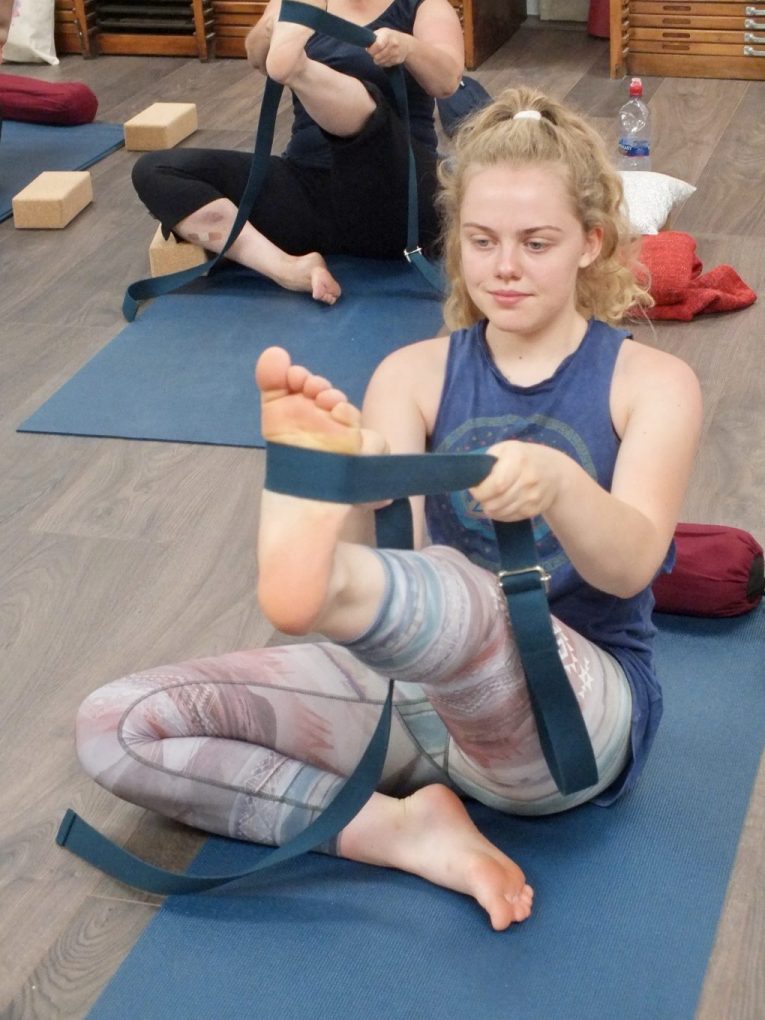 Aine is a regular smiley presence on our retreats in Ireland and Spain  You will usually find her in the kitchen assisting Piotr or baking up her amazing chia biscuits.  She ensures that your every need is catered for during your stay and very importantly she keeps the herbal tea flowing!
When she has spare time Aine also runs our facebook, instagram and snapchat accounts and keeps us on our toes when it comes to technology.  
A budding yogi, she has been practicing vinyasa flow and restorative styles for two years.  Aine particularly loves the benefits that yoga provides her in coping with exam stress and is grateful for having gained these skills at such a young age.